International Higher – End Workshop on Electric Vehicle Intelligent Technologies (EVIT – 23)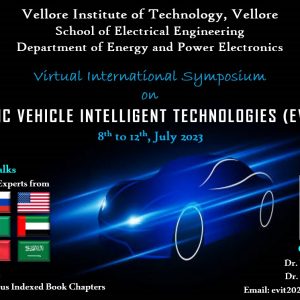 EVIT-23 is a prestigious interdisciplinary workshop that brings together leading researchers, experts, and policymakers to discuss and share their knowledge on electric vehicle intelligent technologies. The workshop aims to explore the latest developments and advancements in the field, as well as discuss and address challenges and opportunities in electric vehicle technologies. Interested participants can also submit their full-length papers during registration. Selected papers will be published as Scopus-indexed book chapters in Elsevier. Only presented papers will be published.
July 8, 2023 – July 12, 2023
Vellore Institute of Technology
Vellore Institute of Technology, Thiruvalam Road, Katpadi, Vellore, Tamilnadu – 632014.