6th Global Conference on Women's Studies (WOMENSCONF2024)v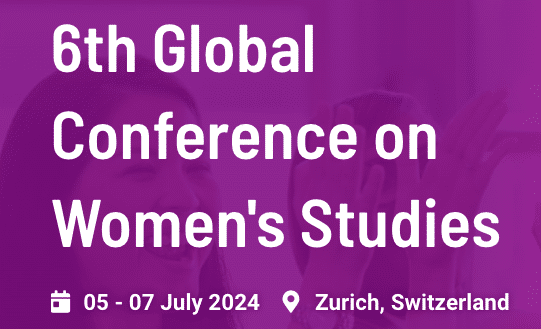 6th Global Conference on Women's Studies (WOMENSCONF2024)
Are you ready to be part of a transformative experience that is shaping the future of women's studies? Look no further than the 6th Global Conference on Women's Studies (WOMENSCONF2024), coming to Zurich, Switzerland, from 5th to 7th July 2024. Let us take you on a journey of knowledge sharing, global networking and empowerment like never before.
Benefits of WOMENSCONF2024:
Knowledge Exchange: Engage in thought-provoking discussions, panels, and workshops that explore critical issues impacting women today, including gender equality, women's rights, and social justice.
Publication Opportunities: Present your research findings, insights, and innovative ideas to a global audience through our conference proceedings and affiliated publications.
In-Person and Online Sessions: Whether you prefer to attend in person or participate virtually, WOMENSCONF2024 offers a hybrid experience, ensuring accessibility and inclusivity for all.
Keynotes, Panels, and Workshops: Be captivated by renowned speakers and experts who will share their expertise, experiences, and visions for a more equitable world.
Empowerment: Gain inspiration and motivation from a diverse range of women leaders, scholars, and activists who are making a difference in their respective fields.
Global Networking: Connect with like-minded individuals from around the globe, fostering collaborations and building lasting connections to further empower women.
Free City Tour: Immerse yourself in the vibrant culture and history of Zurich with a complimentary city tour, giving you a taste of Switzerland's beauty and charm.
Official Invitation Letter of Conference will be issued after registration.
Join us at WOMENSCONF2024 and be part of a gathering that explores the most recent finding on women's studies worldwide. Register now and unlock your potential for positive change!
Visit the Conference official website for more information and registration details: https://www.womensconf.org
July 5, 2024 – July 7, 2024
Uetliberg 652, 8143 Uetliberg, Switzerland
Zurich, Switzerland, Europe